MAP is a healing modality whereby we use conversation to go to your trauma and resolve it in one session. We guide you into your trauma utilizing flashbacks, the earliest flashbacks, the most potent flashbacks. We move you through your flashbacks into a state of relief, so that you no longer feel emotionally charged when you think of a memory or experience.
       MAP is a unique approach to completely resolving trauma. There are two specific components to the healing modality, one is the technique itself, the other is the company. The organization itself, MAP Inc. maintains the energy and systems required to heal your consciousness completely, starting with the Welcome Consultation to your final After MAP Care Meeting. The MAP Healing Program is a process of healing the relationship within your consciousness that is experiencing trauma, creating a perfectly balanced and stable state of mind.

       MAP sees trauma as simply an error in the system of your mind that can be gently accessed and simply corrected. Our minds are more complex than computer systems because they involve the human elements of emotion and feelings.
       Your MAP practitioner will expertly access your trauma like a world class computer programmer rooting out a bug in the system. And like the kindest human being alive, gently and compassionately correct your trauma so you can begin the natural healing process. You can trust us to take excellent care of your healing through the entire process. Just take a look at our testimonials. 
       Through our AMC program, your healing process will be supported like a newborn being patiently nursed into happy maturity. Most clients finish the AMC within 12 weeks. Check out the data here.
MAP Frequently Asked Questions
No MAP is not a type of hypnosis or related in any way. MAP's system is similar to talk therapy , but different, in that it efficiently isolates and heals the core of the trauma quickly and easily. 
MAP is efficient at rooting-out and healing the core of the trauma, in just one session. Years of treatment are not necessary with MAP. Because of MAP's efficiency, it is much less expensive than other treatments. 
Yes, payment is required. However, in comparison to other methods, MAP is affordable. For more information on prices, please click here. 
Yes, MAP really works. 100% of clients experience a reduction in flashbacks, with over 80% having zero flashbacks in under 12 weeks. 
MAP is similar to other treatments for trauma in that it is like talk-therapy, however, MAP doesn't leave you in a state of living with trauma and never healing it, MAP goes straight to the root of the trauma, healing it permanently. Watch Dr. Kay's story and see her experience with traditional methods versus MAP and how it helped her heal her trauma for good.
Watch this video to learn more about flashbacks, and discover if you may have unresolved trauma. Sometimes people are unaware that the issues their having are actually due to unresolved trauma. 
If you checked 2 or more of the boxes, you may have unresolved trauma.
Trauma can cause your mind to shut down in a specific place and repeat that traumatic experience on a loop. This results in parts of your life and self shutting down because you require your whole mind to function in a healthy and whole manner. Shutting down is a very common defense mechanism and behavior. Many people do it all the time for short periods of time because they believe incorrectly that this behavior will help protect themselves.Through its proven healing modality to resolve your trauma at the core, MAP empowers you to move forward in life, returning your mind to its natural, healthy, and whole state.
 Millions of people worldwide struggle living with trauma and its symptoms, just like you. Your purpose in life does not involve living with trauma.
You are not alone. 
Let today be the last day that you suffer in silence. Give yourself a chance at a life worth living. 
Are you ready to heal permanently?
Click the button to the right to purchase your MAP Healing Session.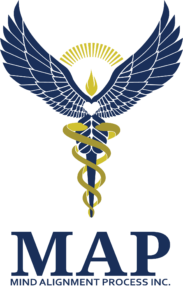 Mind Alignment Process Inc. is bringing our healing modality to the world. MAP heals the root of your trauma quickly, easily, and permanently by bringing peace to the places in your mind that are still experiencing a traumatic events
  All MAP Healing Sessions must be completed within 2 weeks of your initial MAP Welcoming Consultation or an additional MAP Welcome Consultation must be completed. All MAP Healing Sessions must be completed within 30 days of payment or are void. Attendance to After-MAP Care Meetings must begin within 30 days of the MAP Welcome Consultation or are void. Missed sessions cannot be made up. If an additional MAP Welcome Consultation is required for any reason there is a payment of $60. MAP Healing Session rescheduling fee is $15. All MAP Healing Sessions must be rescheduled 72 hours prior to the originally scheduled appointment or are void.
*If you are having suicidal thoughts, tendencies, or feel like you might kill yourself, call a suicide hotline. Remember the diagnosis and treatment of PTSD requires trained medical professionals. Mind Alignment Process Inc. (MAP) Practitioners are not trained medical professionals or counselors, nor do we purport to be. MAP should NOT be used as a substitute for seeking professional care for the diagnosis and treatment of any mental/psychiatric disorders. MAP should be used in conjunction with professional care. You may want to contact your local crisis hotline, community mental health center, private practitioner or clergy. If you are in crisis, call 1-800-273-TALK (1-800-273-8255) the National Suicide Prevention Lifeline is there to help. Or text HOME to 741741 for free, 24/7 crisis support in the US.
Neither Mind Alignment Process Inc., its principals or affiliates, nor its contributors shall be held liable for any improper or incorrect use of the information described and/or contained herein and assumes no responsibility for anyone's use of the information, including any decisions in anyway that stems from failure to take appropriate medical and or psychiatric/counseling assistance.
In no event shall Mind Alignment Process Inc., affiliates or its contributors be liable for any direct, indirect, incidental, special, exemplary, or consequential damages (including, but not limited to: failure to seek appropriate medical and or psychiatric assistance, procurement of substitute goods or services; loss of use, data, or profits; or business interruption) however caused and on any theory of liability, whether in contract, strict liability, tort (including negligence or otherwise), or any other theory arising in any way out of the use of this system, even if advised of the possibility of such damage. This disclaimer of liability applies to any damages or injury, whether based on alleged breach of contract, tortuous behavior, negligence or any other cause of action, including but not limited to damages or injuries caused by any failure of performance, error, omission, interruption, deletion, defect, delay in operation or transmission, computer virus, communication line failure, and/or theft, destruction or unauthorized access to, alteration of, or use of any record.

contact@mindalignmentprocess.org


-Mind Alignment Process Inc. 2019
Mobile version below, do not delete 🙂 

contact@mindalignmentprocess.org


-Mind Alignment Process Inc. 2019